Drilling of deep chalk wells and well development – Soho, London
Client G-core Limited
Duration 2.5 months
Value £325,000
Project Involvement
Drilling of deep chalk wells, carrying out well development and acidisation, undertaking pumping tests.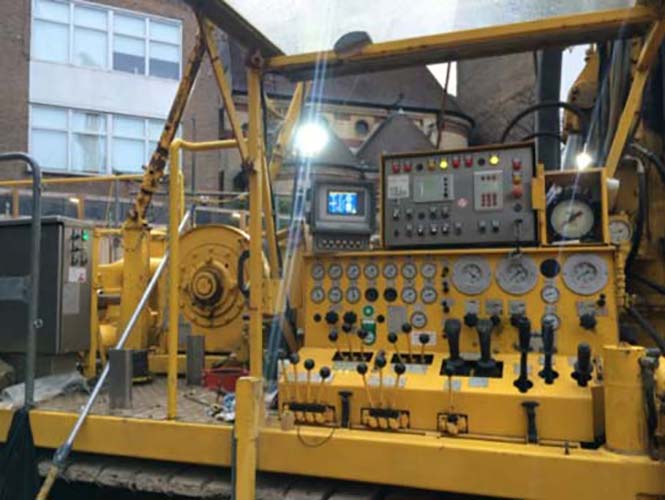 Introduction
In 2017, Project Dewatering Ltd (PDL) were chosen by ground source energy experts G-Core Limited as their specialist sub-contractor to drill and install an array of deep open-loop boreholes on a congested central London construction site, now known as Ilona Rose House. The borehole will be integrated into a system providing renewable heating and cooling for a mixed-use development of shops, offices and restaurants.
The works

Project Dewatering used reverse circulation drilling to successfully complete four 185m deep chalk wells. Permanent steel casing of 340mm diameter was installed and sealed into the top of the chalk aquifer at a depth of approximately 65m.
The boreholes were designed with an extended open-hole section through the competent chalk in order to maximise the vertical separation of abstracted and re-injected groundwater and mitigate the risk of thermal breakthrough where boreholes were closely spaced on this compact site.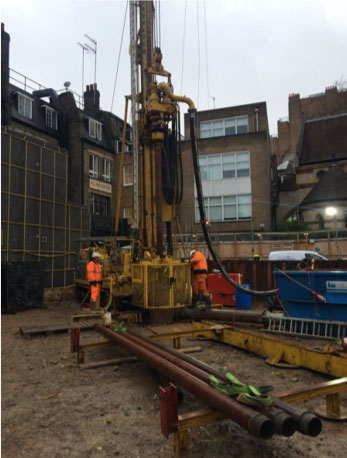 Airlift 'Reverse Circulation Drilling' (RCD) was critical to ensure a clean and stable bore into which the permanent casing was installed. This process also guaranteed the effective removal of drilling cuttings at depth without requiring specialist large drilling pumps.
Our experience with this drilling methodology, working in busy London construction sites and the availability of specialist instrumented RC drilling rigs and tooling within our parent company group, Hölscher Wasserbau Group, gave the client and consultants the confidence that a high quality finished well could be installed within the extremely restricted space on the site.