What is Horizontal Dewatering?
Horizontal Dewatering is typically used in projects with shallow linear configurations, e.g. railway lines, motorways, etc., or long, narrow excavations, and is normally carried out by utilising drainage lines from 80 to 100mm in diameter, which are installed around the site at depths of up to 6 metres, depending on local circumstances. Drainage line trenches are excavated using a trenching machine (or 'trencher') with mounted rotary cutting chains, which create a trench approximately 30 cm wide, and to the desired depth. Drainage lines are installed at the base of the trench as it is excavated, and it is then backfilled. If the aquifer (an underground layer of water-bearing permeable rock) at the site in question has low permeability, filter gravel can be backfilled instead of soil at certain depths to increase drainage capacity. The installed drainage lines are then connected to a vacuum piston pump, which creates the negative pressure gradient required for water transfer. The collected groundwater is then conveyed through the vacuum piston pump, and from there to an outlet line leading to a suitable discharge point.

Despite being cheaper than other dewatering methods due to the comparatively low manpower needed for installation, Horizontal Dewatering is nevertheless rarely used in the UK, as native soil profiles are deemed to be less suitable for it than in Europe, where it is used almost universally on pipeline projects. Project Dewatering, however, believes that it could still be greatly beneficial to a wide variety of construction companies and building contractors in the UK, as pipework is not needed on either side of an excavation in order for dewatering to be carried out, meaning there would be no obstructions in the way when digging starts. This is not only a boon in terms of project management and ensuring that works are completed in good time, but also helps to reduce health and safety risks onsite. Although the sheer size of the trencher needed to carry out Horizontal Dewatering would rule out application in smaller projects, it is particularly effective for carrying out dewatering around turbine bases at wind power plants.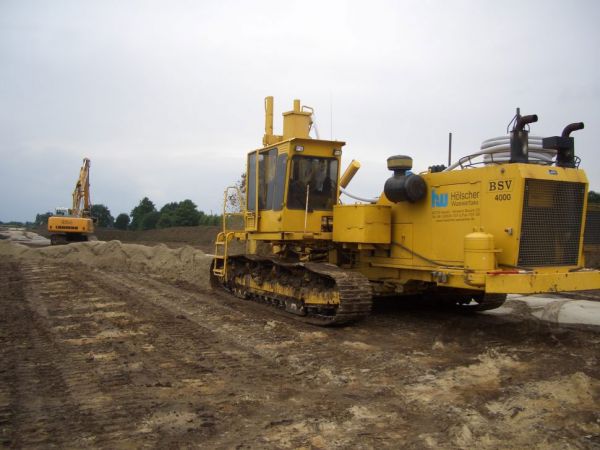 It has recently been reported that the UK is set to fall short of its target of meeting 15% of its energy needs from renewable power plants by the year 2020, and 30% by the end of the decade, despite the fact that the government expects wind and solar to be vastly cheaper alternatives to non-renewables by 2025. In comparison, Germany has set a far more ambitious target of 45% by the year 2030, which by all indications they are well on their way to meeting. By taking a leaf out of the book of our European counterparts, and harnessing this cheaper, less-obtrusive solution to dewatering, Project Dewatering can provide a more efficient method of groundwater control that is suitable for specific ground conditions seen in the UK.
If you would like more information about our wide range of advanced, bespoke dewatering solutions, or would like a demonstration or consultation with our experienced experts to see how it could benefit your construction project, get in touch today via 01473 658 807 or enquiries@project-dewatering.co.uk - we look forward to hearing from you.